Biography
Sarah Meneely-Kyder lives in Lyme, Connecticut, where she also maintains a studio. After 22 years of teaching composition, chamber music and piano at Wesleyan University in Middletown, Connecticut, she recently retired and devotes her time to composition and performance. She is a member of the American Composers Alliance, New York Women Composers and a founding member of Connecticut Composers, Inc.
Prior to any formal musical training, she cites the ancestral influence of her family's tintinnabulists. The Meneely Bell Foundries, located in Watervliet and Troy, New York, manufactured bells for sites in both the United States and Europe from 1826 to 1952. Meneely-Kyder is a graduate of Goucher College (B.A.), Peabody Conservatory of Music (M.M.), and Yale University School of Music (M.M.A.). Her composition teachers included Robert Hall Lewis, Earle Brown, and Robert Morris. Trained in serial 12-tone composition, she wrote, for her Goucher thesis, a composition that netted spectacular reviews when performed by the Baltimore Symphony. At Yale University, she abandoned atonality and was awarded the Rena Greenwald Memorial Prize for the best piano composition, Homegrown, written in 1973. This work is shamelessly tonal, involves no modulation, and engages the use of controlled improvisation, allowing more freedom and spontaneity of musical choices to the performer.
In the years following her formal education in Western musical tradition, she broadened her musical base, turning her attention to the East. She studied South Indian Carnatic music and North Indian Hindustani music. Eventually, she was initiated by Roop Verma, a student of world-renowned sitarist, Ravi Shankar. As a result, she has written several pieces that fuse disparate musical elements and traditions into unified works. She has been noted for such works.
At the heart of her musical thinking is accessibility. "When I'm writing music, regardless of my musical choices, … it matters to me that my music reaches whatever listening ear on whatever meaningful level." (Robert Schulslaper, Fanfare magazine, Vol. 33, Issue 2, Nov/Dec 2009)
As a pianist, Sarah Meneely-Kyder is primarily interested in the performance of contemporary music, with specialization in 20th century American music. Kyle Gann, Village Voice critic, praised her performance of a work by Alvin Lucier, noted exponent of sonic art. Lucier, in a separate article, wrote, "Ms. Meneely-Kyder is a gifted and productive composer. I had the privilege of sharing with her a program of works performed by the Wesleyan University Orchestra. Her piece, for chorus and orchestra, was beautiful and effective, even as executed by students." In addition to Wesleyan, she has also performed with the New London Contemporary Ensemble, and the Friends of Voce Performers Ensemble during a concert honoring the music of Leonard Bernstein. His daughter Nina was there and offered high praise for her performances of his works.
Meneely-Kyder is the recipient of two Artist Project Grants from the Connecticut Commission on the Arts, and has received numerous commissions. She is published in the Dictionary of Contemporary Music, edited by John Vinton, and has an entry on her music in the revised edition of Baker's Biographical Dictionary, edited by Nicholas Slonimsky.
"Letter from Italy, 1944", one of her most significant individual works, was included on the CD Millennium Overture, produced by North/South Recordings, and it was nominated for a Grammy award in 2003. This piece is the seed that inspired Meneely-Kyder's magnum opus, the oratorio Letter from Italy, 1944, a major two-hour composition that encompasses 24 arias, duets, trios, and choruses in a wide variety of modes and styles. In 2010, the Greater Middletown Chorale received a grant from the New England Foundation for the Arts' Meet the Composer/New England program. It was at that point that the Greater Middletown Chorale commissioned this sweeping musical drama about her father's personal battle with Post-Traumatic Stress Disorder (PTSD) and its troubling extension into the world today.
Listen to excerpts from the oratorio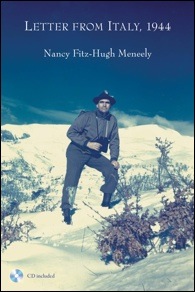 The libretto for the oratorio Letter from Italy, 1944 was written by Meneely-Kyder's sister, noted Connecticut poet Nancy Fitz-Hugh Meneely, who created lyrics describing her father's life before the war, during the war, and after the war, when he returned home to rejoin his family. The majority of lyrics written during the war were based on the letters that he had written to his wife from Second World War battlefronts in Alaska and Italy. Greater Middletown Chorale's Artistic Director Joseph D'Eugenio served as editor and collaborator of the work.
The oratorio Letter from Italy, 1944 premiered on April 28, 2013 in The Middletown Performing Arts Center under the baton of Conductor Joseph D'Eugenio. Patricia Schuman, internationally acclaimed Glimmerglass and Metropolitan Opera soprano, and Jack Anthony Pott, Voce and CONCORA tenor, created the starring roles of Delia Meneely and her husband, Dr. John K. Meneely Jr., 10th Mountain Division World War II medic and physician. It was presented with full orchestra in a unique semi-staged production complete with archival 10th Mountain Division projections.
Veterans and members of the medical community as well as general audiences have hailed Sarah Meneely-Kyder's monumental work as a powerful and poignant means of healing and understanding for all those in our nation touched by war. Dr. Neely Bruce, Professor of Music and American Studies at Wesleyan University, termed the new oratorio "brilliant."